I have a selling blog for the items that I create and sell in my Etsy shop but it is a work in progress at this time. I have decided to wait until the first of the year to get back to work on that. Until then, I will be posting about them here on this blog. I have several vintage style aprons that are perfect for the upcoming holidays and figured I had better hurry up and get them on the site. Time is running out!!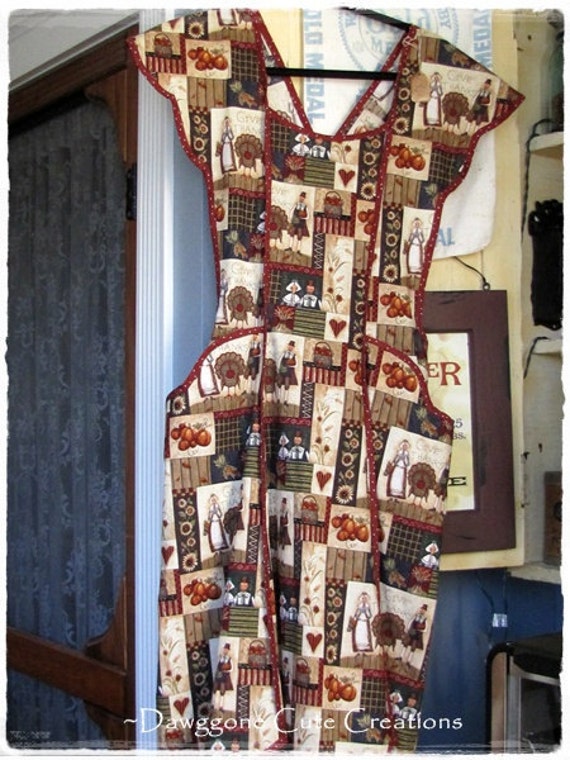 This is my Pilgrim Harvest apron with a collage of all things that remind us of Thanksgiving. I especially love the pilgrims with the "give thanks" phrase.
I make all my own bias trim using a coordinating print fabric. This one is made with a soft burgundy and cream-colored dots. It is used on the scalloped pinafore....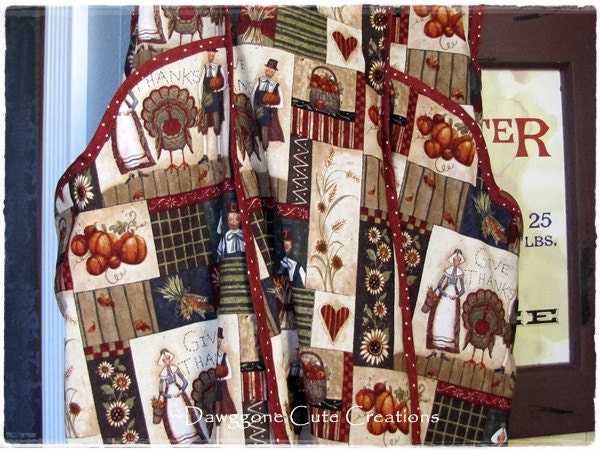 and large roomy pockets, which are typical of a vintage style apron and also along the hemline (you can't see it in these photos...sorry).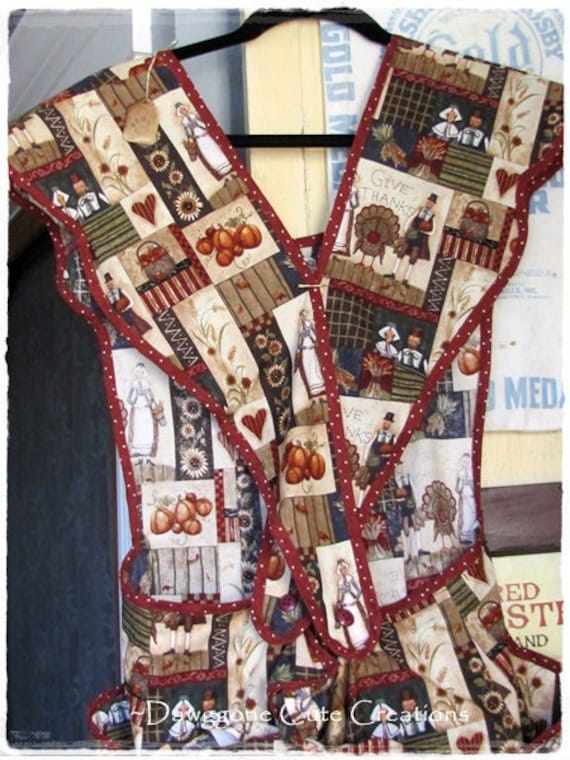 The pinafore crisscrosses in the back and buttons at the waist.
I have only one available, at this time, and it comes in Medium.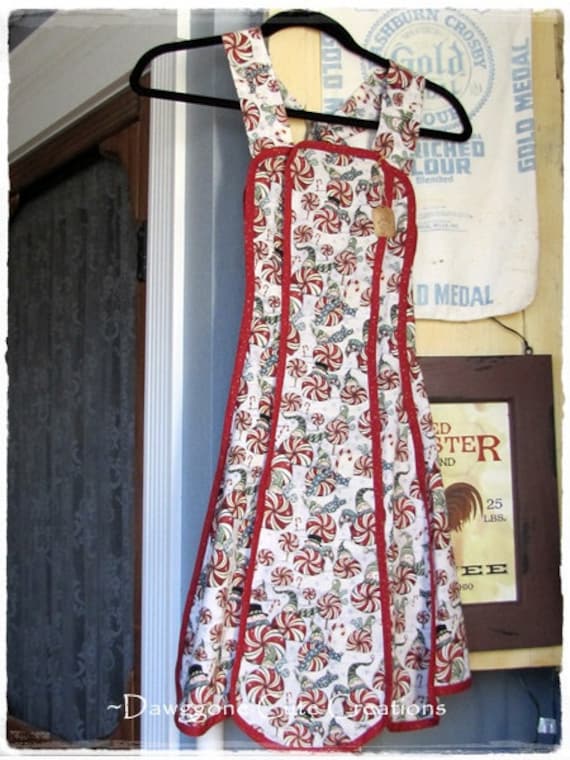 I love not only the style of this little apron but also the fabric. It doesn't have the typical red and green Christmas colors but rather touches of winter blue, deep red and silvery white.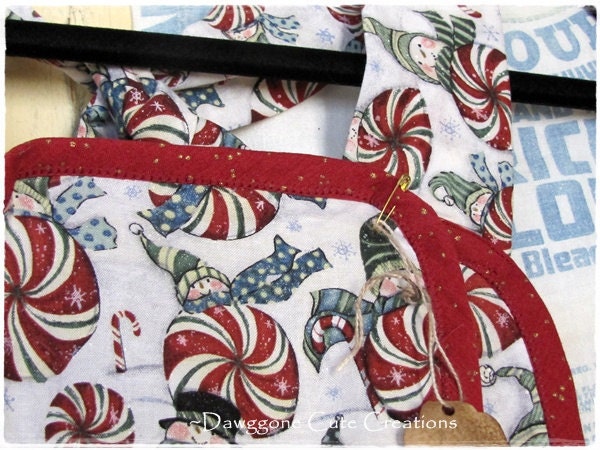 Little peppermint snowmen with their blue scarves. I used a deep red with silver speckles for
the coordinating bias trim.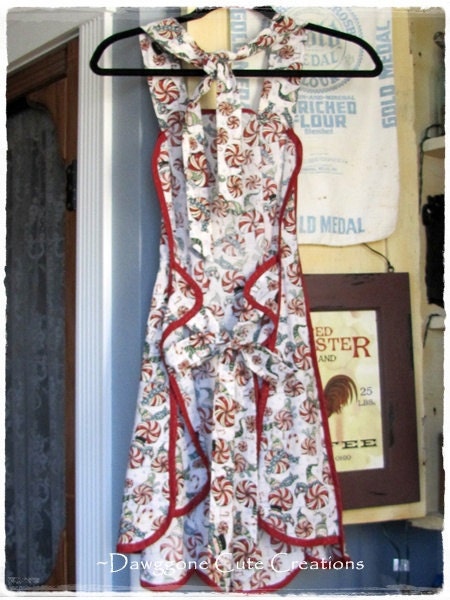 Scalloped hems and bias trim everywhere...how cute is that??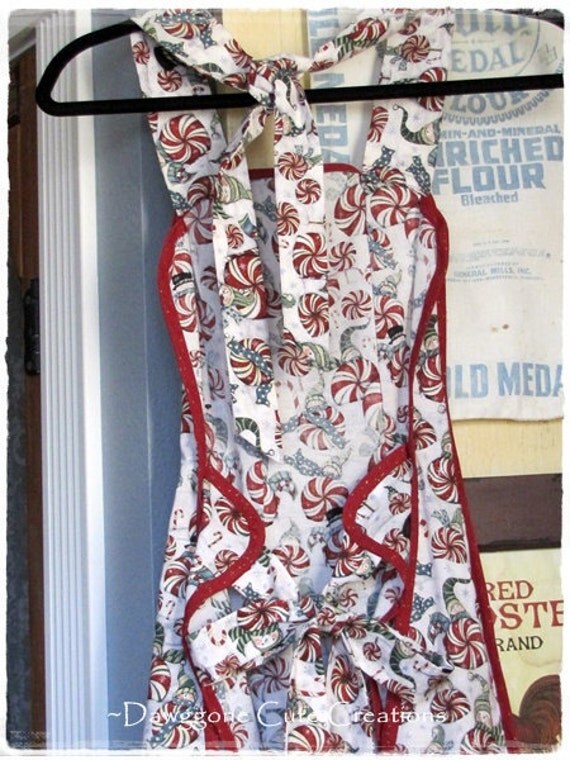 What I love about this apron is that it can be worn all thru Christmas and the winter season. Do you agree? This apron comes in Medium but can be made in other sizes with a one to two week wait.
This is my gingerbread apron all decked out with gingerbread chefs ready to help with making their gingerbread houses.
White rickrack with decorative red stitching trims the top of the bodice, extra large pocket and right above the ruffle at the bottom of the skirt.
Wear this apron for your Christmas baking, cookie exchange, Christmas party...and what else? This particular apron is a Small but other sizes are available. There is a one to two week wait to complete your order. If you are interested in these aprons or any other items I have, you can see them
HERE
.
Do you even wear an apron? Do you especially wear one during the holidays or other special events during the year? I love the vintage style aprons but what do you think about them?
Hope you are having a beautiful Autumn day where you are ~
NOTE: Goin' to some blog parties at...